Written by : Ahmartiago Aspurwa
Yogyakarta is a region with a lot of crafts. Handicraft centers in DIY are dominated by Small and Medium Industries (IKM) which produce various kinds of handicrafts, such as wood crafts, pottery craft, leather craft, sculptures craft, batik, etc. According to UU No. 5 th 1984, Industry is an economic activity to process raw materials, semi-finished goods, and finished goods so thay have higher value of use and selling prices. Activities in the industry can also absorb a lot of labor, as well as in small and medium industries. Supported by data from the Badan Pusat Statistik of DIY that the production of IKM continues to increase, proved by the positive growth in 2017 of 17.48% compared to the previous year.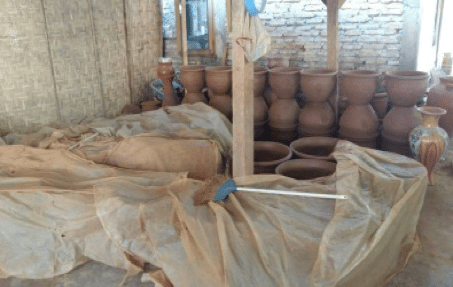 One of the industries that has been well known in Yogyakarta is pottery industry of Kasongan. Kasongan is one of the centers of craft as well as a tourist destination in DIY, especially foreign tourists. Their main production is pottery and wood crafts, and the biggest commodity is pottery. Starting from the use of clay to make furniture such as plates, bowls, jugs, etc., it has turned into a craft center whose reach national and international market. We interviewed the owners of IKM and they said that they often send their craft to Java such as Jogja, Central Java, and West Java, other island such as Kalimantan, Sulawesi, Sumatra, and Papua, and also abroad, especially to Asia and Europe .
Many requests from various regions sometimes cannot be utilized properly. Several times there was a request that was rejected because the production capacity could not be sufficient. Kasongan pottery industry experienced problems in its production process. Although there are many IKMs in Kasongan that make pottery, sometimes they cannot fulfill the demand because the production process is quite long. The pottery production process starts from clays till turn into finished goods about one week, depending on temperature and weather. Therefore, they need for improvements in production to meet the demands.
Simulation is a method that can be used to solve the problems in kasongan, such as IKM pottery Sari Siti owned by Mr. Kasto. We are working with Mr. Kasto's IKM for increasing the amount of production at the IKM. Beginning with collect the data of activity phase and the working time. Then the production floor layout and its dimensions. In addition, we collect the data that related to income and expenses to compare the profits before and after improvement. Then the model is created and analyzed using Flexsim 2017.
Based on data that are collected, observed, and analyzed in 3 months, these are the production's flowchart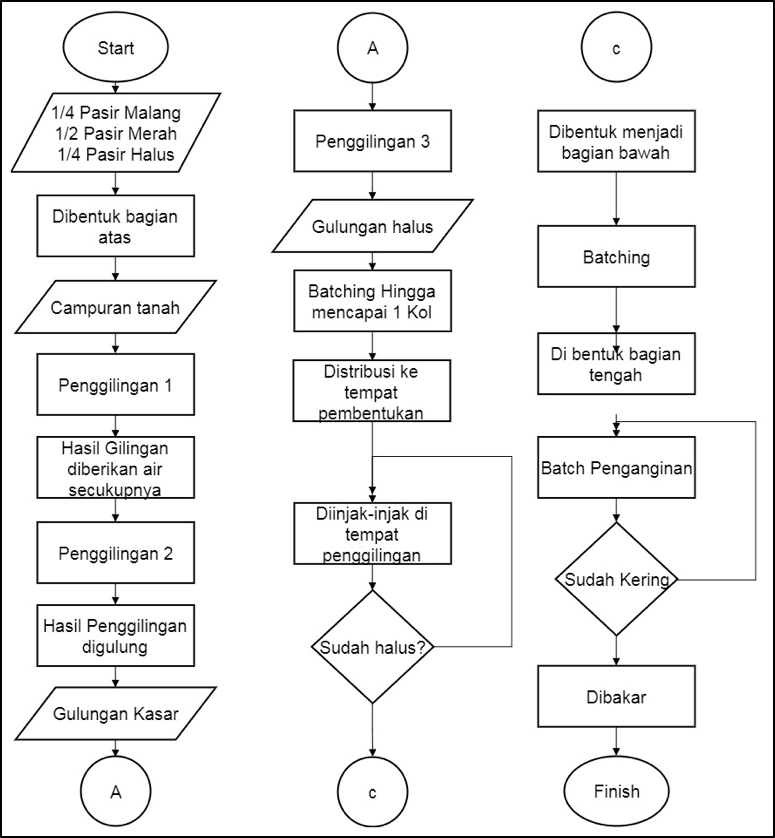 Figure 1. Flowchart of Pottery Production in IKM Sari Siti
so, there are two scenarios offered to be able to solve productivity problems based on simulation results using Flexsim 2017, they are:
1) Recruit new workers for bottleneck activity, that is forming activity.
2) Using molds for the forming activity for saving more time.
From both, the first scenario is the most profitable scenario, which recruit new worker. This scenario can increase the output production twice more than before. The following table is an economic analysis of this scenario.
Table 1. Economic Analysis After Improvement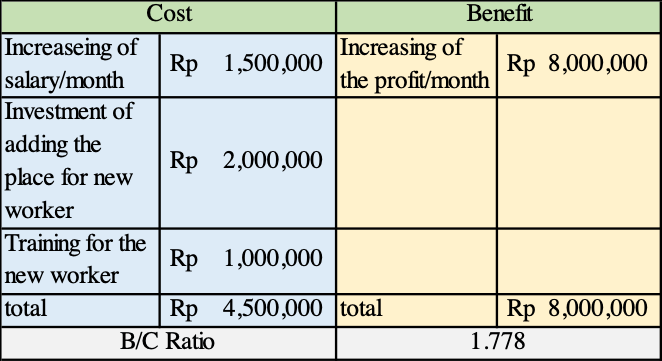 The table below show that the value of BC ratio is higher than 1, so this scenario is feasible to be implemented.
After obtaining the best solution, there needs to be followed-up to the IKM about the implementation of the solution. Not only for implementation but also for controlling the productivity, whether it can increases according to the simulation results or not.